History Of Cadet College Wana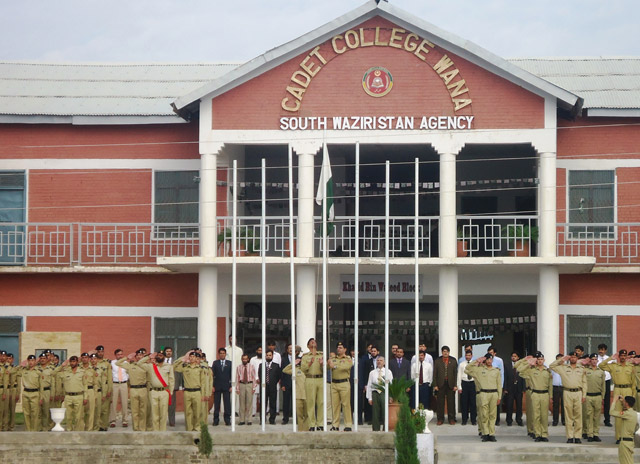 Tribal Districts Merged Areas has remained under developed throughout the known history and even after Independence. The status quo was maintained and no worthwhile efforts were made to bring these areas into national mainstream. This negligence bred poverty, unemployment and illiteracy, which led to dearth of economical stakes and downfall of social values. The persistent unconductive environment and lack of awareness strengthened the roots of militancy and adverse law and order situation in the area. If one singular reason is to be identified as the root cause of this weird template, lack of education stands out to be the core contributory factor. A massive education campaign becomes imperative in Tribal Districts Merged Areas , because it is simply education which can bring evolutionary transformation of society and will inspire the people to live more abundantly, to learn to begin with life as they find it and make it better. Realizing the same, the Government of Pakistan conceived and decided to implement the maxim.
"To change perception and uplift tribesmen through education"
The establishment of Cadet College Razmak in NWTD back in 1978 became a source of inspiration for people of Wana owing to its socio – economic effects on local populace. Establishment of CCW was a long standing demand of local tribals of Wana and SWTD, which was finally agreed to by COAS during his visit to Tanai SWTD on 15 Feb 2010. He made an announcement to this effort in a tribal Jirga with a timeline to commence the session in April 2011.
In order to establish CCW in a stipulated timeframe, various temporary localities were considered, out of which Govt Girls Degree College (GGDC) Wana was finally selected. The complex was under construction and all available resources were used to expedite and complete the work. The main reason for selection of site was its intrinsic security owing to its central location and close proximity to JSC Wana and SWS Camp.
Final go ahead on establishment of CCW and commencement of session in April, 2011 with induction of cadets in 9th class was given by COAS during his visit to SWTD on 7 December, 2011. The formal approval to open a Cadet college at Wana, South Waziristan Tribal District was given by Prime Minister of Pakistan Syed Yusuf Raza Gillani on 5 November, 2010 in Parliament House, Islamabad. This decision was taken in a meeting with the Governor Khyber Pukhtunkhwa Awais Ahmad Ghani. The purpose was "Addressing the problems of the people of this area by providing better education facilities to tribal youth"
In pursuance of the Prime Minister's directives Cadet College Wana (CCW) starting functioning on 4th April, 2011. The temporary campus of the college was set up at the under construction girls Degree College Wana. This Degree College was completed on a breakneck speed with assistance from Pakistan Army Engineers from 11th Division, the Administration and Coordination, FATA Secretariat. The major work as Project Director was carried out by Brigadier Muhammad Asif Commander Artillery 9 Division and his staff. The General Officer Commander (GOC) of 9 Division, Kohat, Major General Rizwan Akhtar has said that a new cadet college has been established in Wana, the headquarters of South Waziristan Tribal District, on the demand of local elders. The institution would be administered by the Army's 9 Division, headquarters in Kohat and Wana. He hoped that the college building would be completed by next year. The work on the new building has commenced already during October, 2011 and the first phase will be completed in December, 2012.
Cadet College Wana was inaugurated by Chief of Army Staff General Ashfaq Pervez Kiyani on 23 June, 2011.
In his inaugural address General Ashfaq Pervez Kiyani reiterated the purpose of this institution as "providing more opportunities for quality education for tribal youth". The first batch of 50 students was selected prior to inauguration with more admissions planned at regular intervals. By 17 August, 2011, General Officer Commander (GOC), South Waziristan Tribal District, Major General Rizwan Akhtar on Tuesday in an impressive ceremony distributed an amount of Rs. 120 millions among those persons of Khojal Khel tribe who provided 800 kanal land for the College.
On 17 August, 2011, the President of Pakistan, Asif Ali Zardari, under Article 247 (5) of the Constitution of Islamic Republic of Pakistan, approved and signed the regulations for "Establishment of Cadet College Wana in South Waziristan Tribal District" as advised by the Prime Minister in terms of rule 15(A) of the rules of business, 1973, the President also empowered the Board of the Cadet College to make rules, with the prior approval of the Federal Government, for carrying out the purposes of the regulation. The rules are notified in the official gazette.
College provides tremendous opportunities to tribal youth in terms of uality education, which will have far reaching effects on socio-economic uplift of the area.